At ThunderShark, we recognize that the privacy of your personal information is extremely important. Below is information on what types of personal information we receive and collect when you use and visit http://www.thundershark.net and how we safeguard your information. We will never sell your personal information to third parties.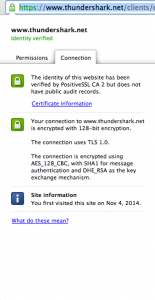 All personal information (creating an account, accessing your client area, changing your passwords) is entered only on pages secured using 128-bit Secure Socket Layer (SSL) encryption with certificates issued by Comodo Positive SSL. This secure connection will be denoted on your browser's address bar by either a lock symbol and/or a green bar indicating the connection is secure (see image to the left).
All FTP connections to our servers are required to be secured using our self-signed SSL certificates. This provides additional security for all of our customers and the information they transmit when logging into their account using FTP, uploading their site, or making changes. Any unsecured connection attempt will be denied. Since most of our clients will be using their Root account and password to upload and modify their site, sending this information as plain text for all to see could result in a complete takeover of their site. Unlike most hosts, we prevent that by outright denying unsecured FTP connections.
We DO NOT store your credit card information. All credit card transactions occur through Pay Pal and are processed outside of ThunderShark. If we change our merchant processor to instead store your credit card information, you will be notified and have the ability to opt out.
As with most other websites, ThunderShark collects and uses the data contained in log files. The information in the log files include your IP (internet protocol) address, your ISP (internet service provider, such as AOL or Comcast Cable), the browser you used to visit our site (such as Internet Explorer or Firefox), the time you visited our site and which pages you visited throughout our site. These logs DO NOT contain personal information and are generalized. We use this information to simply improve the quality of the site and diagnose errors as they occur.
ThunderShark does use cookies to store information, such as your personal preferences when you visit our site. This could include only showing you a popup once in your visit, or the ability to login to some of our features, such as the forum.
You may have clicked on an ad for this website that was delivered by Google through Google Site Stats. Google measures the performance of the advertising it delivers. By providing a tool to more accurately measure the performance of the ads we deliver, Google (and advertisers) will be able to improve the quality and relevance of the ads that you see.
To measure performance, Google uses small strings of text (known as cookies) that are placed on your computer when you click on ads. Cookies typically remain active on your computer for about 30 days. If you visit certain pages of the advertiser's website during that period, Google and the advertiser will be able to tell that you saw the ad delivered by Google.
If you want to disable the use of cookies, you can reset your browser to refuse all cookies or to indicate when a cookie is being sent. Be aware, however, that some websites may not function properly if you refuse to accept cookies.
If you require any more information or have any questions about our privacy policy, please feel free to contact us.